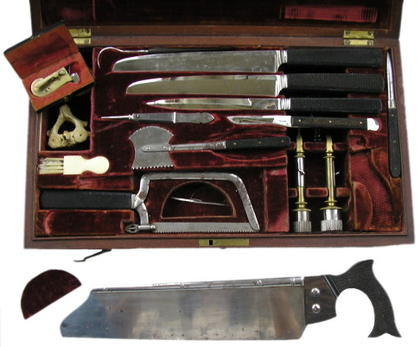 I found this on a website http://boingboing.net/2009/05/20/1800s-surgical-kit-u.html.
These are the basic surgons tools of the era although our character didnt need surgery its a start. Im quite compelled about how grusomly simple these tools are it must have been very painful for anyone who needed any sort of surgery. I love the fact that this set comes with a brush it reminds me of the brush you get in a barbers tools.
Just found a quoat on http://www.themedweb.co.uk/dictionary/Dictionary.htm
"Until the 19th century, medical technology was a small specialized world. Doctors in the 1800's where solely dependant on their own senses and any instruments they possessed would have been designed and made by themselves or the local Blacksmiths."
"The late 19th Century saw the advent sanitary engineering, clean water and safe sewage disposal. This did more to improve general health of the developed world than any clinical medicine."
This Shows that any medical equipmet would have been in a style that the docotor wished it to be.